Taking America back – one listener at a time…
As host and commentator for over two decades, Jeffrey Bennett has been privileged to cover such subjects as YOUR Financial, Physical, and Spiritual well-being, education, news, Federal and local legislative issues, which will affect our future, political satire (with a twist), and editorial commentary on current events through the teaching of history. The tradition continues…
NEW Program Schedule: March 27, 2017
Life, Liberty & All That Jazz covers a wide range of topical issues including, politics, economics, education, government and world events are all covered in one form or another and is heard each Monday through Friday evening from 10:00 a.m. til NOON (Pacific Time) on The Micro Effect Broadcasting Network.
Wednesday: To Health With You – Jeff has taken his eighteen year experience with Dr. William
Kelley's Cancer Victory program, and intersperses it with discussion and special guests dealing with YOUR optimum health. To Health With You may include guests such as the renowned Dr. Curtis Kuhn (former patient of Dr. Kelley's and current Metabolic practitioner), Pamela McDougle (last certified cancer technician trained by Dr. Kelley), Dr. Veronique Desaulniers ("Dr. V"), who has maintained successful practices in the Wellness Field since 1979, author Tanya Harter Pierce, M.A., MFCC and others.
In 1998 I was taught many things by Dr. Kelley, and one of them was that no doctor can cure you of anything… It is up to you to keep your body healthy and put your self on the right path to a long and healthy life. You do NOT want to miss these educational and hard hitting two hour programs. After all – it's YOUR health we are talking about. ~ J.B.

Special Programming – Generally held for serious presentations as relates to history and education, heard through our daily Life, Liberty & All That Jazz set. Sometimes due to the nature and the intensity of the presentation, the programs will be recorded for airing within just a couple of days. "Those who forget the past are doomed to repeat it.", and we are here to help you learn what has not been taught for many years.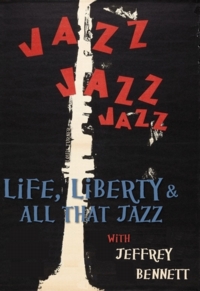 The Micro Effect is an online radio network dedicated to bringing you information over a free internet radio stream that is typically hidden or avoided on lame-stream media. We broadcast live Monday-Saturday and provide internet radio free of charge for our listeners. Please see our Schedule Page for details on specific times for live broadcasting.
Life, Liberty & All That Jazz, Life, To Health with YOU, and The Metropolis Café are produced by Kettle Moraine, Ltd., an Arizona Corporation, which also hosts and maintains a series of web-sites. You are invited to visit them all – and visit them often.
Accentuating the Positive
You've got to accentuate the positive
Eliminate the negative
Latch on to the affirmative
Don't mess with Mister In-Between
The words of the 1944 song by Harold Arlen and Johnny Mercer explains that accentuating the positive is key to happiness.
Jeffrey Bennett has been broadcasting on the alternative media (shortwave, satellite and internet) for over twenty years. During that time, he has covered nearly every issue that each of us – every day – have witnessed beginning with the deadly confrontation and siege in northern Idaho in 1992 against Randy Weaver, his family and his friend Kevin Harris by agents of the United States Marshals Service (USMS) and Federal Bureau of Investigation (FBI), which resulted in the death of Weaver's son Sammy, his wife Vicki. Seven months later we watched in horror as many of the same government agents were present at the American Holocaust of 'Waco' in 1993 and the subsequent bombing of the Alfred P. Murrah Federal Building in Oklahoma City two years later (reportedly done in protest of the Branch Davidian horror).
Collectively, these events were the beginning of major change in America – and not of all of it for the good. Due in part to these events, a new awakening begun to take place among concerned people in this nation, which led to the growth of militia organizations throughout the land. A new awareness among the people was beginning to take shape, and along with it – a growing fear of the U.S. Federal Government.
Since those times America has somehow survived (although barely) through the administrations of Clinton, Bush and now Obama – and THIS is the regime that could bring it all down – but we are not giving up yet.
In addition to the above, Jeffrey has devoted untold hours covering the health, education and welfare of we the people, through – not only our daily programming – but through our respective websites, the battle wages on… and it's not all negative.
In these days of constant negativity – the time has come to "Ac-Cent-Tchu-Ate the Positive" – and that is what we offer – Tune in and find out.
We'll be looking for you – on the air!